Facility Side Cable FSC3U001 is a detachable 16/20A, 230/400V WYE 10ft /3m power cable with a Universal Connector for the Universal Rack Power Distribution Unit (UPDU). The FSC3U001 has a 3P+N+E IP44 providing 11kW of power capacity. 
Universal Connector to IEC60309 3P+N+E, 16/20A
Best Suited For:
Banking, Financial and Insurance
Data Center/Colocation/Hosting
Education
Government
Healthcare
Power/Gas Transmission and Distribution
Warranty: Vertiv™ Geist™ Facility Side Cables come with a standard three-year warranty that is automatically extended to five years, if the product is registered within 120 days of purchase.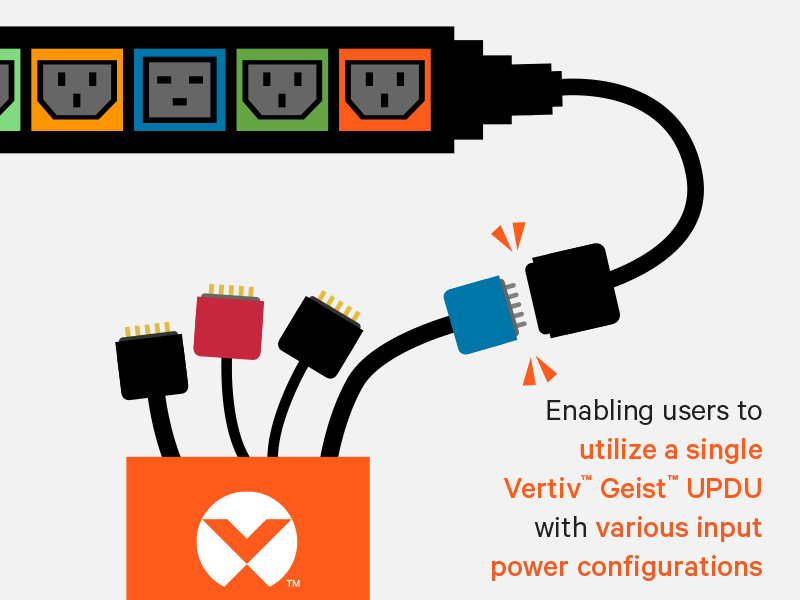 The Facility Side Cable enables users to utilize a single Vertiv™ Geist™ UPDU model with various input power configurations to simplify inventory management and enable rapid deployments worldwide. 

Simplify global IT infrastructure deployments with a single Universal PDU model using regionally specific power cables.

Increase or decrease Universal PDU power capacity by changing the Facility Side Cable to adapt to fluctuating equipment power needs. 

Every unit is 100% tested for reliability and functionality to ensure units function as designed.

Standard three-year warranty, upgraded to five years with product registration.

Save time and money by pre-integrating Vertiv™ Geist™ rPDUs with the VR Rack. Contact your local sales representative to get started.